Do you love those char-grilled veggies from the BBQ? There's something about that charred taste that makes vegetables easier to go down and utterly delicious.
But, most of us cannot fire up the BBQ any old time we fancy it. We usually have to do this in the Summer months when we have all the needed paraphernalia that goes with your average, outdoor eating, and sometimes we simple cannot do it.
Well, worry not, for we have bought you a similar taste and texture with these griddled and charred, chili-lemon vegetables. Yes, you can make this delicious, plant based meal indoors with your griddle pan, OR even a frying pan if it's all you have.
How do I get the char-grilled effect on my vegetables?
It's not hard to get a char-grill effect going on if you use a hot pan, switch on your extractor fan and open a window. There's going to be smoke making this tasty dinner.
But, it's that smoking that will give you the colour and taste you want for that authentic charring.
You will ideally need a thick bottomed, griddle pan with the charring grates (see pic). The charring grates will give you the tell-tale black lines on the finished result and seems to also help with the authentic taste.
What if I don't have a griddle pan?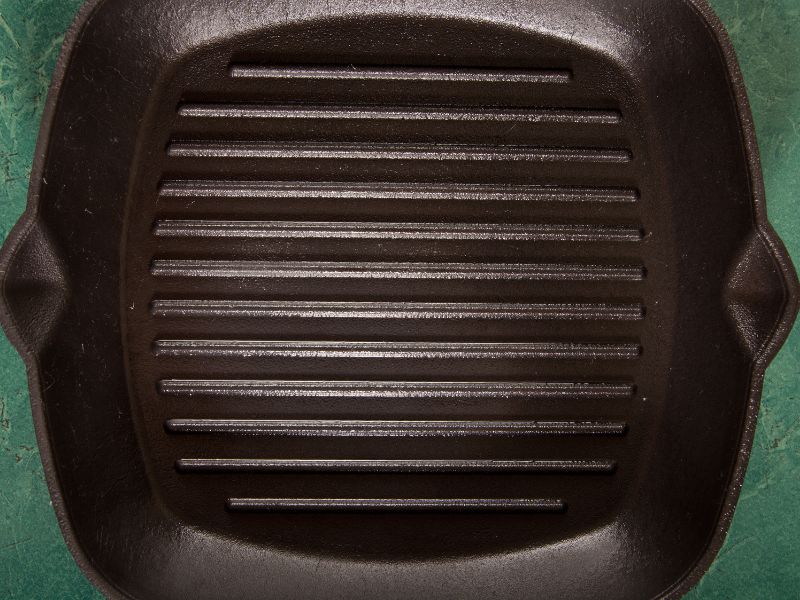 Fear not if you don't own a proper griddle pan. You can make these griddled-charred vegetables in your average frying pan and still get the taste you want. The griddle pan is preferable because you will get the authentic, black char-grill lines, but it's not essential.
Other options for making this dish is to use your grill.
What Vegetables Are Good On A Griddle?
The thing about griddled vegetables is you want high water content veggies that will cook quite fast. Vegetables like carrots, parsnips, swedes, potatoes and other root vegetables are not suitable, due to them taking quite a long time to cook. Potatoes also cannot be eaten RAW.
We do have the exception of onions because they taste great still crunchy and are high water.
Some of the best veggies for your charred and griddled veggies are asparagus, bell peppers, chili peppers, aubergine (sliced quite thinly), courgette zucchini, red and white onions, Spring onions, shallots, edamame beans and corn on the cob.
How Long Do You Cook Your Vegetables On The Griddle?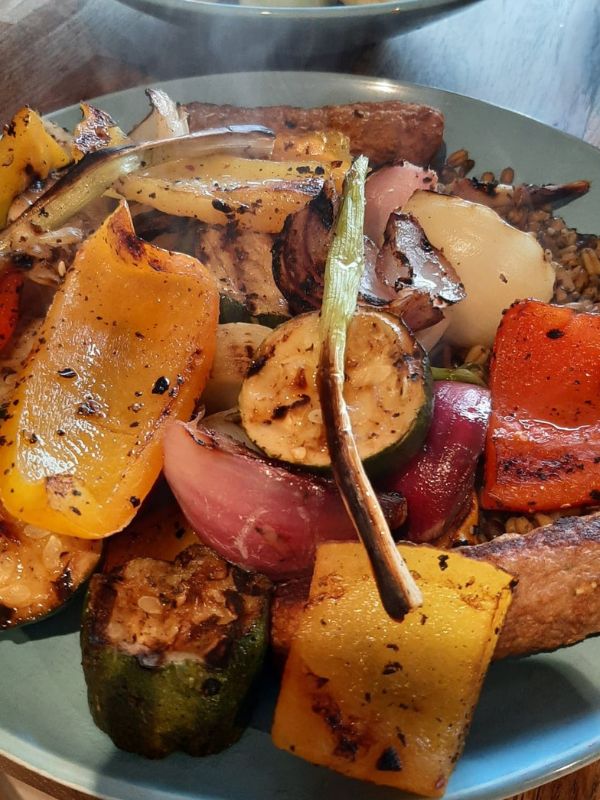 You will want to be cooking your griddled vegetables on a very high heat. Go for the highest heat you can get on your stove and be sure to heat your pan first.
To get that tasty, char-grilling the heat needs to be very high. Ideally, you want to leave your vegetables of choice al dente in the middle and softer around the outside for the best flavour and texture.
This process will take around 5-7 minutes either side of your vegetables. You can do this to your own liking and softness, of course.
Flavours and seasonings to add to your veggies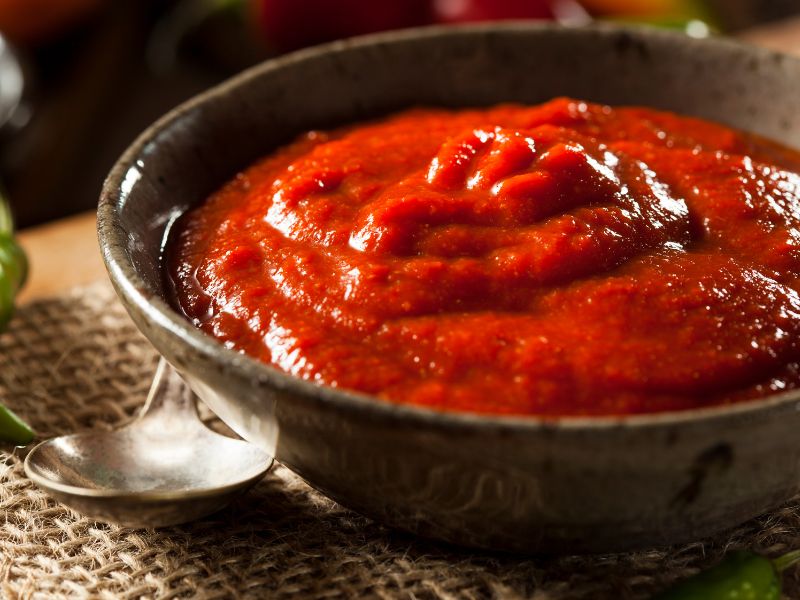 Feel free to mainate your vegetables first if you prefer. This will also add more flavour to the end result if you have time to do this, but it's by no means essential.
Yes, your indoor, char-grill vegetables will taste just as delicious by being cooked just coated in a little oil. You don't need much; just brush or massage in by hand some, melted coconut or olive oil and you're good to go.
Seasoning-wise, we prefer to keep things as simple as possible with just salt, pepper and a sprinkling of chili flakes for an added kick. You do not need to use the chili flakes, but salt and pepper is pretty essential to taste.
Once your veggies are fully cooked, it's time to squeeze on the fresh lemon juice. Lemon juice is a vital component of this dish as it adds freshness and acidity and it really won't be the same without it.
Lastly, add a good squirt of Tobasco, sriracha or chili sauce and the dish is complete.
What to serve with your char-grilled vegetables
You will want some kind of side to serve your veggies on to bring everything together. You can use either rice, quinoa, cracked wheat, cous cous, mixed grains, lentils, chickpeas or bulger wheat to bulk your meal out. We recommend you use a pulse of some kind to add more plant based protein.
A pitta bread with hummus is another option. Stuff your veggies inside.
You may also wish to serve with some plant based burgers or sausages too!
Large griddle pan (or frying pan). You may need two, depending on how many you are cooking for.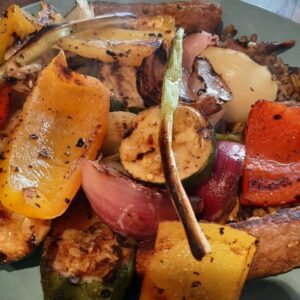 The Best, Griddled & Charred, Chili-Lemon Vegetables
Equipment
Large griddle pan (or frying pan). You may need two, depending on how many you are cooking for.

Fish slice
Ingredients
1

large

courgette

1

medium

red onion

1

small

white onion

½

each

of red yellow and green pepper (or any mix)

6-8

tips

asparagus

4-6

Spring onions

optional

Corn on the cob if you're really hungry

but, you may need to cook it separately because of room in your pan

Salt and pepper

Kettle of hot water
To serve
Lemon juice and zest

Sriracha

tobasco, chili sauce or hummus

Grains, lentils, rice, cous cous, chickpeas, hummus and pitta, or anything of your choice!
Instructions
Very chunkily chop your peppers, onions (into about 6 pieces) and courgette (into inch think chunks). You can do inch long strips with your peppers.

Prep your other veggies but don't chop into pieces unless they are particularly large.

Get your pans on to heat at a high temperature. You will need to be careful your smoke alarms don't go off as this dish SMOKES. Make sure you have an extractor fan on and a window or door open.

Now oil up your veggies with either coconut or olive oil. OR a oil that has a high smoking point. Be sure to look into high smoking point oils for this dish as it is going to get burnt.

You can use a brush for your oil, or massage in with your hands.

Now add your oiled veggies to your pan(s) and crack salt, pepper and chili flakes to taste over them. At this point you will want to add a good splash of your hot water into the pan. Try not to go over the top of the vegetables so you don't take all your oil and seasonings off.

Fry at the highest heat for about 5-7 minutes until you get a good char-grill effect going.

You will want to push your veggies down hard with a sturdy fish slice to get the most from the chargrill. You will also need to keep adding more splashes of hot water as you go along so your veggies don't dry out. You need to keep them just moist. However, adding water will make them smoke and sizzle. Be careful!

Once your veggies are cooked on one side, turn over and repeat. Add more seasonings.

Once everything is cooked, squeeze lots of lemon juice and zest over the vegetables.

Serve with your preferred sides, more lemon juice, salt, pepper and sauces.
Video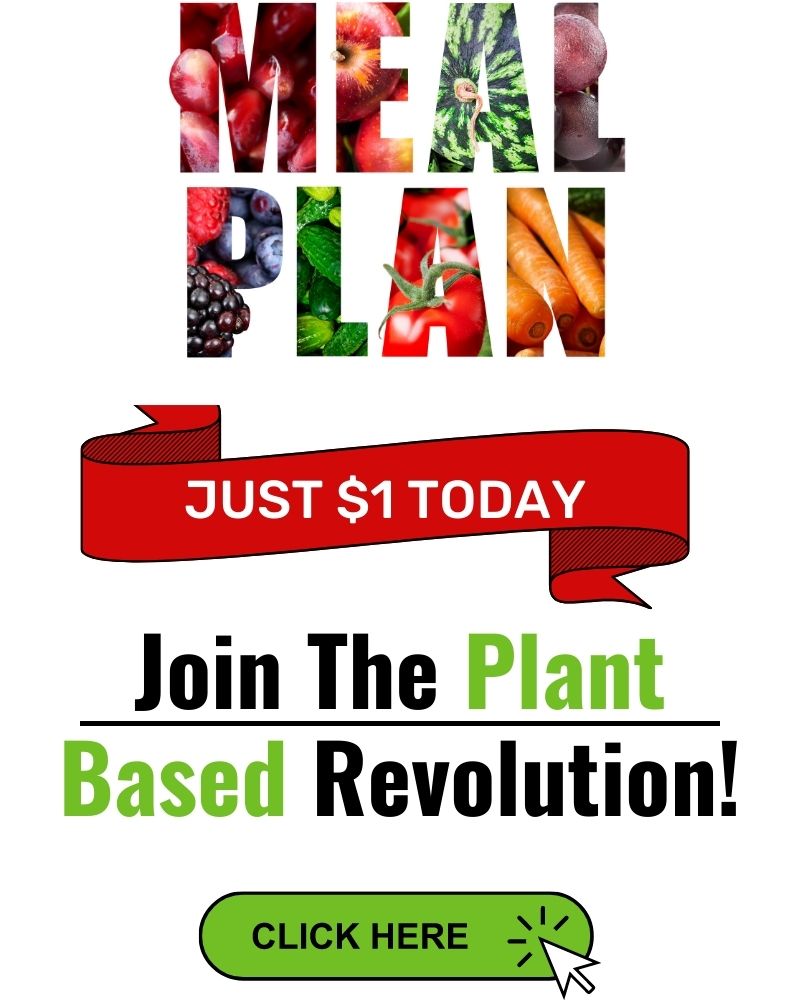 Thanks for visiting ZestForever today!
You're support of our website is so appreciated and we would love for you to like and share our recipes to your friends.
Let's bring about a plant based revolution!