L-glutamine is one of those buzzwords in the fitness industry and seems to be highly acclaimed for its ability strip fat and build lean muscle tissue. This is all very well, but is it true? And if so, how do you use it?
In this post we will take a deeper look into what are l-glutamine benefits and side effects so you can decide for yourself whether this supplement is right for you and your needs.
What is L-Glutamine?
This conditionally essential amino acid is needed in the body for the biosynthesis of proteins. It is the most abundant amino acid in our bloodstream and more than 61% of our skeletal muscle is made up of it, and 90% of our body's l-glutamine is synthesised in our skeletal muscle.
There can however, be a problem sometimes with glutamine synthesis in certain individuals, such as those who're sick and premature babies. It is much harder for people in those groups to produce their own, so in these cases it then becomes an essential amino acid because of the body's compromised abilities, hence the reason it is 'conditionally essential'.
Do I need L-Glutamine supplements?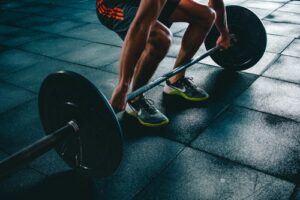 Glutamine is essential for providing fuel to your cells in order to make other amino acids, and also to produce glucose. It is especially needed in times of stress, both physical and mental, as it will be burnt up very quickly under these conditions. This is one of the main reasons why l-glutamine is so popular in the fitness industry, as physical training puts constant stress on the muscles and immune system so therefore a constant supply is vital to hard exercisers.
When intensely training, levels of glutamine are vastly depleted, which in turn decreases overall strength, stamina and recovery time. In fact, after an intense exercise session it can take up to 6 days for levels to return to what they should be – not good if you like to train at least 3 to 4 times a week.
Muscle Repair and Growth
Studies show that glutamine supplementation can improve the metabolism of protein – meaning it can also be used for muscle repair and growth; and is yet another reason why it is so popular with those on an intense training program or lifting heavy weights.
L-Glutamine and fat loss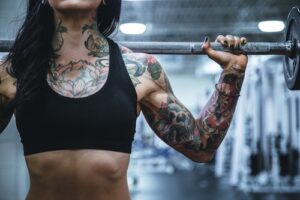 This popular amino acid is definitely up there as a known fat burner, as it helps counteract the storage of fat to help regulate weight. It also reduces cravings for sugar and alcohol (which are up there with the worst belly fat producing offenders), and as belly fat specifically is the most dangerous kind to have in regards to health, keeping it to a minimum is a must.
During intense exercise, l-glutamine also helps with the process of outing fat WITHOUT losing vital muscle mass, which is something that is very easily done when exercising, or can also be a side effect of weight loss.
Using L-Carnitine alongside L-Glutamine
L-carnitine is another amino acid that also has an impressive profile for fat burning during exercise – this among many other benefits. The reason I mention it is because it's often used alongside l-glutamine for even more enhanced fat burning and muscle building effects, therefore it may be worth considering this supplement alongside your l-glutamine. 
There are many other ways you can build fat burning muscle, and you should incorporate some of them into your daily regime and NOT just rely on one thing. You will always get the best fat burning, muscle building results by using as many different methods as possible that include diet, exercise, and sometimes added supplements.
Potential Mood Booster
L-Glutamine can help boost mood due to the fact that it can cross the blood-brain barrier and stimulate the neurotransmitter GABA. This neurotransmitter can also lower feelings of anxiety, depression and can help you sleep more soundly by reducing symptoms of insomnia.
But, if you are using it for these reasons alone then you will also need to be sure you are eating a healthy diet and exercising regularly, as one supplement alone probably won't give you the same benefits if not used alongside an all round healthy lifestyle.
Exercise and the immune system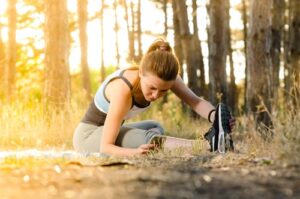 An intense workout (especially body building) depletes your stores of l-glutamine, and as it plays such an important role in the immune system this can leave you more susceptible to catching bugs and other illnesses.
Who's ever noticed getting sick after they know they have overdone it in the gym or out running? I know I have, in fact, it seems I never learn with this one! Pushing your body too far too soon, can really have a knock on effect on the immune system, therefore it's vital to keep it strong and healthy with a supplement such as, or similar to l-glutamine. It's worth mentioning that all immune boosting supplements are helpful to exercisers, not just this one.
Immune benefit's in itself could be a good reason to use this amino acid, especially if you do like to push yourself during training. And of course pushing yourself is certainly something that you need to do in order to get stronger, fitter and leaner. It's just probably not a good idea to take this too far too quickly, not if you want to keep your immune system firing on all cylinders.
Other Uses For L-Glutamine
L-glutamine is also used in the medical world for many other reasons, one being as a protection for the immune system in patients undergoing cancer treatment such as radiotherapy. It is also used after bone marrow transplants and bowel surgery to improve recovery, prevent infection, and increase well-being.
L-Glutamine and leaky gut syndrome
Another very popular use for l-glutamine is for the healing of the cells in the lining of the gut that may have been damaged by LGS (leaky gut syndrome). LGS can often be a side effect of IBS (irritable bowel syndrome). This review supports the theory of l-glutamine's role on gut permeability, and how it may help in the prevention of toxins entering the bloodstream.
The inflammation that goes with this disorder can damage the intestinal lining. Experts are not sure whether IBS causes LGS, or vice versa, and it is a field that still needs much more research as there is no real cure as of yet, not medically at least.
Other Issues Caused by leaky Gut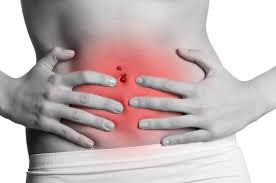 Having a leaky gut can cause so many issues in the body that it is fast becoming a leading chronic health issue. According to studies some of the problems that may lead back to leaky gut are auto immune diseases, skin problems, allergies, asthma, autism, arthritis, SIRS and type 1 diabetes.
Symptoms of leaky gut may include inflammatory diseases, food sensitivities, auto immune diseases, malabsorption of key nutrients such as vitamin B12, magnesium and other enzymes, and mood disorders including autism.
The fact is, there is much debate still raging about whether leaky gut syndrome actually exists so you may wish to do more research yourself if you feel you may be suffering from it. 
Healing A Leaky Gut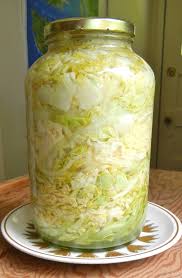 While l-glutamine may help to repair a leaky gut, this is only a small part of the healing process and there are other steps that involve the cutting out of certain foods. These include:-
Cutting out foods such as sugar, grains, non organic animal products and alcohol.

You will then need to add in healing foods with live enzymes, and probiotic foods such as sauerkraut and live yogurt cultures.

It is after this that you would begin the repair process, and this is where l-glutamine would come in with its abilities to heal stomach lining.
You would then need to repopulate the gut's good bacteria with a good quality probiotic. This process is called the 4R System.
Important: The 4R system is a process that needs to be done either under the supervision of a professional, or with proper understanding of it.
Helps protein synthesis.

Helps strip fat and promotes lean muscle growth.

Is a great immune booster.

May help combat insomnia.

May help boost mood

Has many medical uses (of which I would suggest you consult your doctor about before use)
Best times to take L-Glutamine supplements
As glutamine levels are at their lowest AFTER you have done a workout or exercise session then this is one of the optimal times. If you have it in a powder form then it would be perfect to add to your post workout protein shake. Alternatively (and depending on your specific needs), you can take it either in the morning or before bed, which may be a good idea if you are using it to help your sleep.
How much L-Glutamine do I need?
You should always carefully read the guidance on labels before using any supplements because some are higher dose than others, but generally somebody in an intensive training regime will need between 10 and 15g per day (always take 5g of that after a workout and the rest either morning or evening.
Others who are using this product on a gentler exercise regime, or for other reasons, may need less. In these cases you should either speak to a professional, or use the guidance on the label.
Where to buy and which kind
As with all supplements, they are most definitely NOT created equal. Some are filled with preservatives, chemicals, fillers and many more nasties; and just think, if it's something you need to take long term then it would be detrimental to keep filling your body with toxins. Many of these will have names that are unrecognisable so you don't really actually know what you're putting in your body, or the potential side effects of this added junk.
Make sure you source your l-glutamine from a reputable brand in order to be sure you are getting good quality products that are safe to use.
Possible Side Effects
It's important to ALWAYS read labels. Side effects are pretty rare and usually only occur when too much is taken, or at a different dosage than suggested on the labels (yet again another reason to buy good quality products as they will know what they're talking about when it comes to dosage).
Side effects that do occur they are generally mild and may include stomach aches and cramps, nausea, vomiting, mild skin rash, dizziness, itching and headache. If these happen you should stop taking the supplement immediately and consult with your doctor who may suggest a different dosage, or to stop completely.
If you would like to ask any questions on the topic of l-glutamine and its side effects I would be happy to help you out. Please post below and I will be happy to get back to you as soon as I can. Thanks for stopping by!