Recipe by: Dr. Vincent Esposito Ms, DC
This corn and cauliflower chowder with roasted Brussels sprouts is a deeply satisfying meal that hits every single food craving you could possibly have.
You will find that this chowder is a complete meal in itself due to the nourishing potatoes and protein rich beans.
You've also got lots of delicious herbs and spices for more health benefits and antioxidants.
We've topped this scrumptious, complete meal with roasted Brussels sprouts. If you're not normally a sprouts fan, then prepare to have you mind blown by the roasted version with lots of herbs.
If you really are a die hard sprout hater, then feel free to leave them off completely.
This is most definitely a family friendly meal and a good way to get veggies into the kids!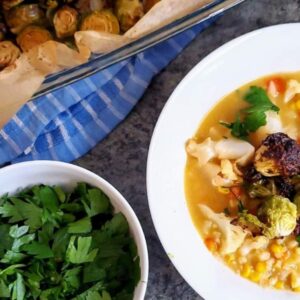 Corn & Cauliflower Chowder with Roasted Brussels Sprouts
Ingredients
For the Chowder
2

cups

Sweet Corn

frozen or fresh

1

head Cauliflower

chopped into florets

2-3

cups

Water or Vegetable Stock

1

⁄2 Yellow Onion

diced

2-3

stalks Celery

diced

2-3

Potatoes

cubed

1

Red Bell Pepper

1-2

Carrots

diced

3-4

cloves

Garlic

minced

1 5 oz.

can

Coconut Cream

1 15 oz.

Cannellini Beans

rinsed and drained

1

t

Dried Thyme

1

t

Onion Powder

1

⁄4 t Cayenne Pepper

1

⁄2 t Smoked Paprika

1

t

Garlic Powder

1

t

Oregano

Salt & Pepper

to taste

Vegetable Stock

for sautéing

1

T

Extra Virgin Olive Oil

for sautéing
For the Brussels sprouts
1

lb.

Brussels Sprouts

halved

Salt & Pepper

to taste

1

T

Extra Virgin Olive Oil

For Garnish

Chopped Parsley

Chopped Scallions

Chopped Chives

Chopped Cilantro

Cayenne Pepper

Black Pepper
Instructions
Rinse and chop the produce accordingly. Line 1 baking tray and preheat your oven to 425 ̊F.

Roast the Brussels Sprouts. Toss the sprouts in salt, pepper, and extra virgin olive oil. Then, place them on the baking tray. Roast for 20-25 minutes, turning halfway.

Set a pot to medium heat. Once hot, add the celery, carrots, onion, garlic, and bell pepper. Sauté until the onions are translucent, 7-8 minutes. Then, add the beans and cook until warmed through, 1-2 minutes.

Sauté the potatoes. Set a skillet to medium heat. Once hot, add extra virgin olive oil. Then, add the potatoes. Cook for 6-7 minutes, until browned, and season to taste. Then, remove from heat and set aside for later.

To the pot, add vegetable stock. Bring to a boil, then add the corn, potatoes, cauliflower, and spices. Stir to combine, and then cover and reduce heat to a simmer. Cook for 15-20 minutes, until the potatoes are tender. Then, add the coconut cream, and adjust seasonings to taste.

Plate the chowder, then top with the roasted Brussels sprouts and your desired garnishes. Enjoy!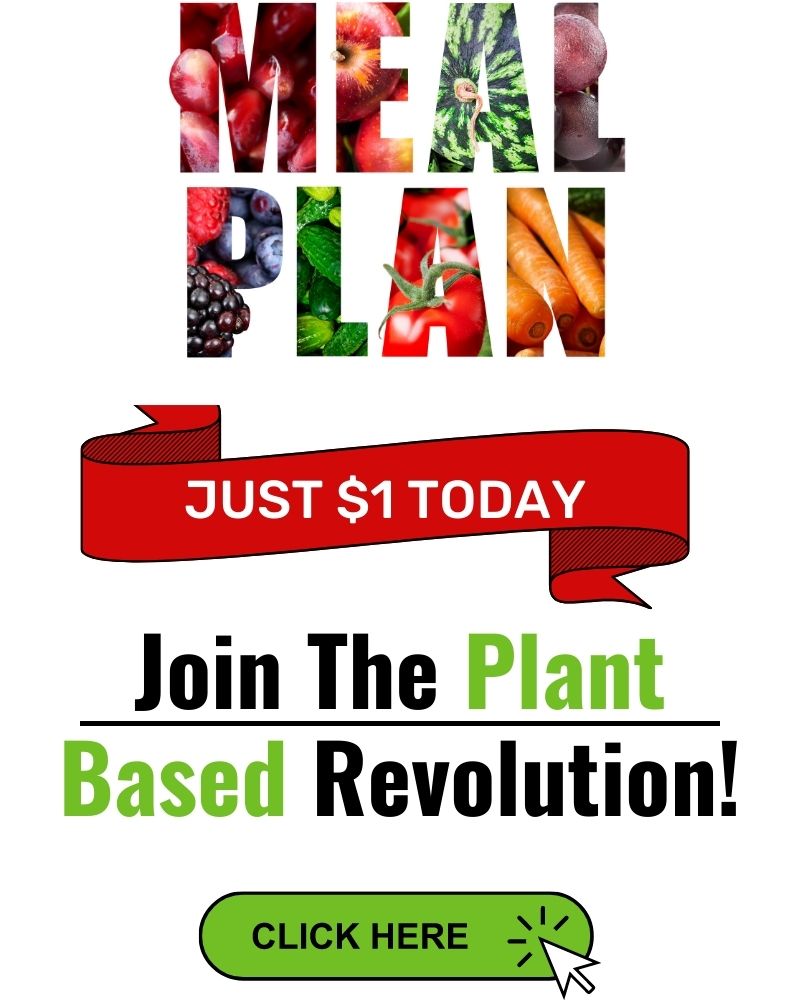 Thank you for visiting ZestForever today!
We hope you enjoyed this recipe.
Please don't forget to like and share with your friends. Let's bring about a plant based revolution!