If you want fast, simple and healthy meals then an instant pot seems to be able to deliver these on all fronts due to its many different features.
This amazing product is a great addition to any kitchen, as it can generally save you up to a third on cooking time, and some things up to 10X faster! In this post I have found for you the best instant pot, plant based recipes that are also super healthy and could easily comply with the whole foods plant based lifestyle if you simply omit any added oils.
Depending on the type of pot you have (or the brand you buy) you will find all sorts of features to your pot, including air-frying, roasting, baking, broiling, dehydrating, reheating, slow cooking, and rotisserie style cooking, but here we will mostly be focusing on the cooking of fast and easy instant pot plant based recipes for all the family.
15 Plant Based Instant Pot Recipes
1. Mexican Quinoa
This take on traditional Mexican rice is so much healthier with the addition of quinoa. Quinoa is an omega rich, versatile seed with a complete amino acid profile, and was an important crop for the Inca's thousands of years ago. In fact, it is said that the ancient Incas built the pyramids powered by this nutritious seed, so if that doesn't give it some credence, then I don't know what does.
This dish also contains even more protein in the form of black beans and corn, both of which contribute to making it a filling meal that will satiate all appetites. Bursting with herbs and spices, this yummy meal will also give you a good dose of those all important antioxidants to help keep you fit and healthy.
2. Lightening Fast Vegan Spaghetti Bolognese
When I say lightening fast, I don't even feel like I'm exaggerating because this dish can be ready in 9 MINUTES!
Not only that, but it contains only a few store cupboard ingredients such as green lentils (though I'm sure you could use red), spaghetti pasta, and some basic herbs and spices.
The fact that this meal can be ready so fast is great news for busy Mums and hungry kids alike, and those lovely lentils add a nice hit of plant based protein too so you can be sure they are getting all the nutrition they need as well.
3. Cowboy Baked Beans
Wow, this super simple and magnificently tasty recipe contains only 6 ingredients. Basically, it's beans, beans and more beans, mixed with some mushrooms, mustard, tomato sauce and a traditional smokey flovouring.
The beauty of this dish is in its simplicity and versatility. You could eat these delicious beans for breakfast, lunch or dinner, and you can serve it with added plant based sausages for breakfast, on toast for your lunch, or with fluffy quinoa or a crispy jacket potato as a main meal. I'm pretty sure this would also taste great in a bowl with some crusty bread or sourdough for dipping too.
4. Lentil and Spinach Dal
I love a good dal, and this one is done in less than half an hour in your instant pot. Its main ingredients of red lentils are super high protein and are extraordinarily healthy.
This tantalising dish contains all those gorgeous, warming Indian spices that are also very high in antioxidants, vitamins and minerals. You can make this dal as spicy or as mild as you like (depending on you and your family's taste) as it's easy to adjust the spices.
Best served with brown rice and naan bread if you want to keep it traditional. Personally, I'd also add some chopped, fresh mango on the side too because this flavour goes so well with a curry and is way healthier than using those high sugar mango chutneys that you can buy in the supermarkets.
5. Moroccan Chickpea Stew
This hearty stew is full of meaty chickpea protein, plus those lovely signature spices of Morocco. Cinnamon, cumin, cayenne and paprika are a match made in heaven, and will warm your chilly bones on a cold winters day.
This meal would be perfect served with quinoa, millet or cracked wheat and some proper Moroccan flat bread. It's a tasty and filling feast thats subtle spices are also very child friendly.
https://instantpoteats.com/moroccan-style-instant-pot-chickpea-stew/
6. Root Vegetable Soup
There's just something about a very simple root veg soup that makes your mouth water. I mean, the ingredients in this soup are literally just the most basic of veggies, no bells and whistles attached, but they don't need them.
You just get a good hearty and filling soup here, suitable for both a filling lunch on its own, or a more substantial dinner with a big wedge of chunky, wholemeal sourdough.
The herbs in this remind me of a classic British soup of the kind I grew up with. Comfort food at its finest!
7. Vegan Butter Chicken
I had to add this amazing butter chicken dish to this list, for the simple fact that it is created by one of my all time favorite vegan chefs, therefore I just know it will be amazing. I have at least 5 staple dishes that I eat almost every couple of weeks form this lady, and I never get bored of them.
This butter 'chicken' is made from soy curls (a unique product made by a brand called 'Butler' that are GMO free and have a taste and texture like chicken), which are very high in bio-available complete amino acids that are therefore great source of protein for a plant based eater.
The creaminess from this dish comes from the coconut milk, so whilst not exactly low calorie, it would be so satisfying and will fill you up for hours (especially alongside some wholegrain rice).
8. Vegan Chili
This recipe, by another great plant based chef I know and love, is really easy and contains simple ingredients that you don't need to search high and low for.
The addition of red lentils to the dish adds a lot more protein and texture than just having kidney beans alone. And those red lentils, along with all the other antioxidant rich spices, make this a very healthy meal indeed. I would serve this with brown rice, or better still, quinoa to up the protein and omega content.
9. Vegan Beef Stew
This very authentic looking vegan beef stew looks to die for. Those Yukon Gold potatoes and beefy brown lentils make this stew look like the real deal. Brown lentils are rich in iron, folate and fiber, so really give a nutritional boost to the already healthful other ingredients of peas, onions and carrots.
This is the perfect winter warmer to come home to on a cold night, and has all the elements you need for a complete meal alone without the need for anything else.
10. Chickpea, Sweet Potato and Red Lentil Soup
Just the glorious colour of this delicious looking soup makes me want to eat it. This warming soup has lots of subtle spices that can easily be made family friendly by omitting the chili flakes without compromising on flavour.
Having chickpea, sweet potato, and lentils all in the one pot ensures that this is a high protein, complete meal without the need for other sides. But, if you're feeling really hungry you could definitely have a crusty, dipping roll too.
11. Vegan Jackfruit & Potato Curry
Jackfruit has gained popularity lately in the plant based eating world. and this is all due to its very similar texture to meat. It comes from the jack tree, and is known as a fruit in the fig family. The great thing about this plant is that it contains a little of ALL the vitamins and minerals, so is therefore a super healthy addition to your diet.
Depending on where you live you will mostly only find canned or vacuum packed jackfuit, so you may have to make do with that if you want to try it. If you can find fresh then all the better, but it's still worth giving the canned or vacuum packed a go to see if you like it.
This curry seems as good a place to start as any, as the strong flavours of the spices will really soak into the jackfruit to enhance its flavour.
12. Red Beans & Rice
This dish isn't a chili (even though it looks like one) as it is seasoned with cajun and paprika instead. It also has the addition of optional vegan sausage to help boost the protein and make you feel like you are eating a classic sausage and bean combo.
This would be another great family dish that will satisfy all taste buds. I bet you can't even tell you're not even eating meat with this one. Go on, test the family and see 🙂
13. Sri Lankan Cabbage with Coconut
Doesn't this look interesting? White cabbage with lots of lovely spices, AND completely different to anything I have seen before, personally. In fact, it reminds me of this amazing Ethiopian cabbage dish that I make every week and that my whole family are a addicted too. This one is definitely next on my list!
You have lots of delicate spices in here such as mustard seeds, mild curry powder, turmeric, plus lots of veggies to make it a hearty, healthy dish.
I would serve this with quinoa to up the protein content and make it more of a complete meal.
https://instantpoteats.com/sri-lankan-coconut-cabbage/
14. Refried Beans
I just had to add this one to the list, simply because I never through it would be possible to make tasty refried beans in an instant pot. These ones are so much healthier too with hardly any fat too!
This particular dish is made with one of the most nutritious of all the beans which is the pinto bean. They are high in protein, fiber, thiamine, iron, magnesium, phosphorus and potassium, so perfect for those on plant based or vegan diets.
I know it takes longer, but I always like to make sure I take the time and effort to make my own pinto beans from scratch by soaking and cooking the dry beans myself. This really makes for a far superior end result. The same goes for all beans in general, but this bean specifically benefits from this process. However, if you simply don't have time for all that business, then canned would do just fine too.
https://www.platingsandpairings.com/instant-pot-refried-beans/
15. Lentil Soup
I chose this lentil soup above all the others because it has a twist of Mexican spices, and just looks so dang tasty too. Also, you can use sprouted lentils here which are way better for you than your average lentil, and the post attached to this recipes explains to you exactly how to do the sprouting process safely and easily.
The sprouting of all pulses and certain nuts and seeds is done to not only produce more nutrition, but also to activate the live enzymes that are great for digestion and nutrient absorption.
This dish can easily be made vegan by omitting the one optional animal product on the list.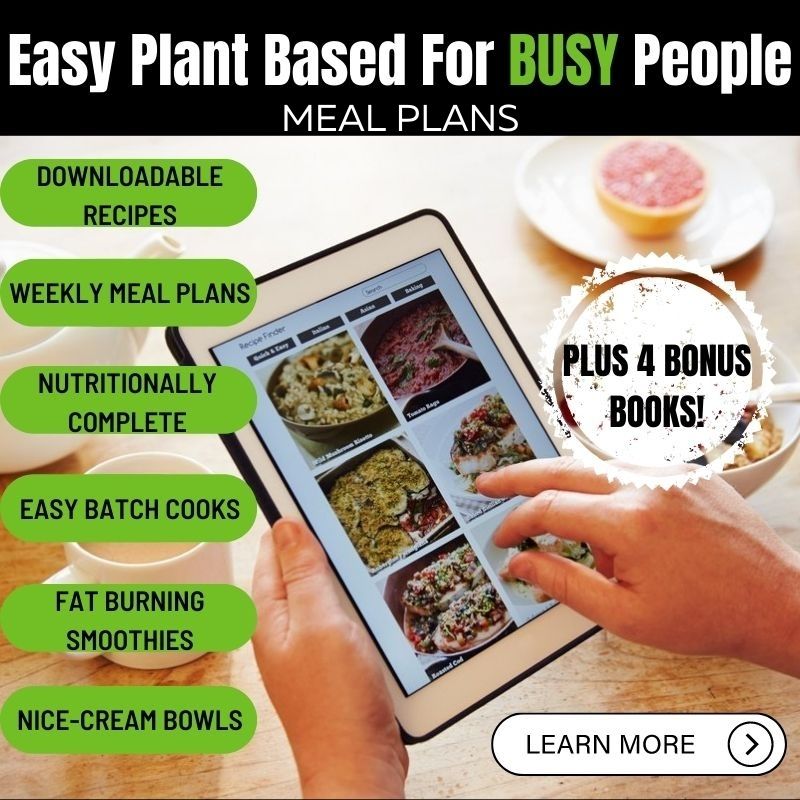 Thanks for coming to ZestForever today. If you've enjoyed this post then why not let me know in the comments section below↓↓↓. It would make may day 🙂
If you would like to receive more posts from the plant based eating world, recipes, tips and other guides to make your plant based lifestyle easier then please sign up to our mailing list and never miss a post again.