If you miss traditional chicken dishes on your plant based diet, then look no further than this sweet and sticky, plant based Caribbean chicken and rice.
This dish tastes so good you wouldn't think it was plant based for a minute. The sweet and sticky sauce coats everything with delicious gooiness, making this a truly, comforting meal that your whole family will devour, plant based or not.
Plant Based Meat Substitutes
Gone are the days when meat substitutes were pretty disgusting. We all remember those insipid looking hams in the health food shop, hidden away in their own small section. This was back in a time when it was quite a rarity to find a real vegan person, so few and far between they were.
Well, fast forward to 2022 and the plant based and vegan niche has exploded into the stratosphere.
Thankfully this has happened, as our planet needs as many plant based people as possible. This has left a massive market for meat and dairy alternatives, and we have certainly love trying them all. We're also finding that the 'new' fake meats on the market are now better than ever, much healthier, and this goes for plant based and vegan chicken products too!
Chicken to use for this dish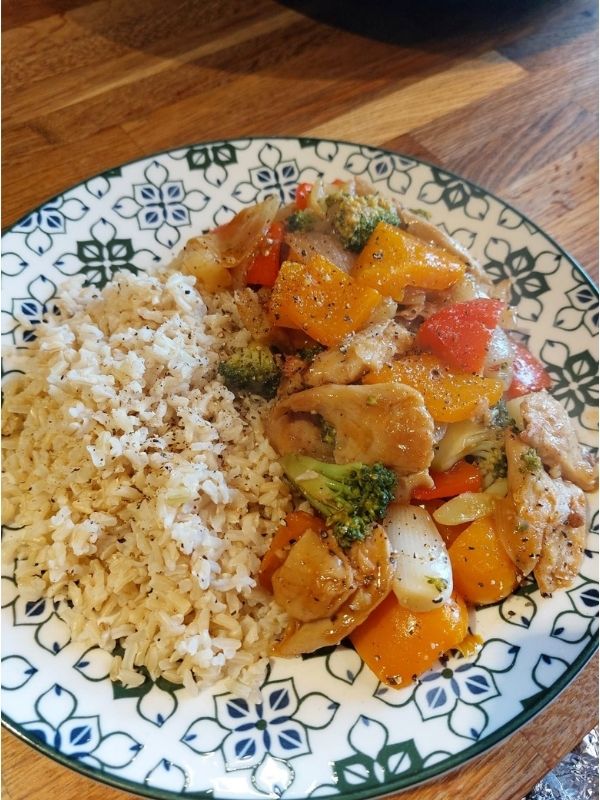 Feel free to use any chicken substitute you wish for this dish, but do try to find something that isn't full of too many ingredients and sodium. Things are getting better out there in regards to this issue specifically, but you'll still want to check packaging.
Go for something that looks like the real deal if you want this dish to look and taste as authentic as possible. You can, however, go for tofu or seitan chunks too, especially if you want to keep things as natural and healthy as possible.
Whatever meat alternative you choose, you will find that it goes really well with the lightly spiced, sticky pineapple sauce and fresh veggies.
To Serve
We have served this plant based, Caribbean chicken and pineapple dish with brown rice, but feel free to use any side you like.
Possible alternatives would be quinoa, cracked wheat or cous cous. If you're health conscious, then wholegrain is always the way to go with these kind of sides.
Wholegrain, brown rice is great, and also has a nuttier flavour. Cous cous does come in wholegrain versions, and quinoa and cracked wheat are already wholegrain naturally. You could possibly serve this dish with fries or a jacket potato too, though we haven't tried this yet.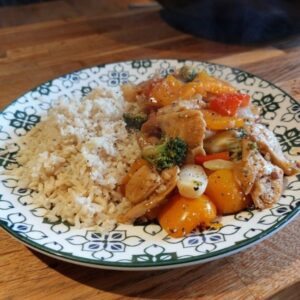 Sweet & Sticky, Plant based Caribbean 'Chicken' & Pineapple
Ingredients
1

4-500g packet

plant based chicken substitute

you can use tofu if you prefer

1

red, bel pepper

1

yellow or orange, bell pepper

1

large

white onion

1

head

broccoli

1

400g

can of pineapple chunks in juice (not syrup)

or pineapple rings which you can cut into chunks. You need the canned pineapple for the juice
For the sauce
juice from the canned pineapple

you need about 300ml of fluids, so make up with water if you don't have enough.

2

tbsp

arrowroot or other clear thickener

2-3

tbsp

maple syrup (or to taste)

2

tbsp

tamari or soy sauce

2

cloves

garlic, crushed

2

tsp

ginger powder

(or thumb size of fresh, grated finely).

1

tsp

paprika

chili flakes to taste

cayenne pepper to taste
To serve
Brown rice, white rice, cracked wheat, cous cous or quinoa to serve
Instructions
Get your rice on to cook. If you are using brown rice, then you will definitely need to get this on first as it takes longer than white. Time whatever side you are using with the meal to be ready by the time your Caribbean chicken is ready.

Pre fry your plant based chicken in a frying pan with a little coconut oil if need be. You want to brown it off to give it some extra flavour. Put aside.

Meanwhile, chop your veggies up ready to fry. You want to chop your onions very chunkily. Same with your peppers. Try and keep everything in inch sized chunks. Chop your broccoli into bite-size florets.

Heat the a large frying pan with a little coconut oil (coconut works best with this dish as it compliments the pineapple and is the oil of choice in the Caribbean. Therefore, it tastes way more authentic when you use it for this dish)

Fry your veggies over for about 7 minutes until tender and with a slight browning.
For the sticky pineapple sauce
Drain your pineapple and set aside (do not throw juice away!). Make it up to about 300ml of fluid by adding water if need be.

In a medium sized bowl, add your arrowroot or other thickening agent.

Slowly add your pineapple juice to the arrowroot, mixing continuously with a spoon to form a paste at first. Be sure to not add all your fluid at once to your arrowroot or it will go lumpy. Mix to a paste first, then add the rest of your fluid.

Now add your other sauce ingredients and whisk well.

Next add you chicken to the pan that has your sauteed vegetables in and heat through slightly.

Slowly add your pineapple sauce and mix well, gently. Keep slowly turning your veggies and chicken into the sauce until well covered. Your sauce should be beginning to thicken into a glossy glaze.

Carry on heating everything through until piping hot.

If you need to add more water to thin it out a little then go ahead. You want enough juice to soak into your rice.

Check flavours. If you need to add more maple to sweeten, then go ahead. Same with the other spices.

Serve immediately with the sides of your choice!
Video
Notes
You can keep any leftovers of this Caribbean chicken in your fridge for up to 3 days. It may not freeze well, depending on the meat substitute you have used.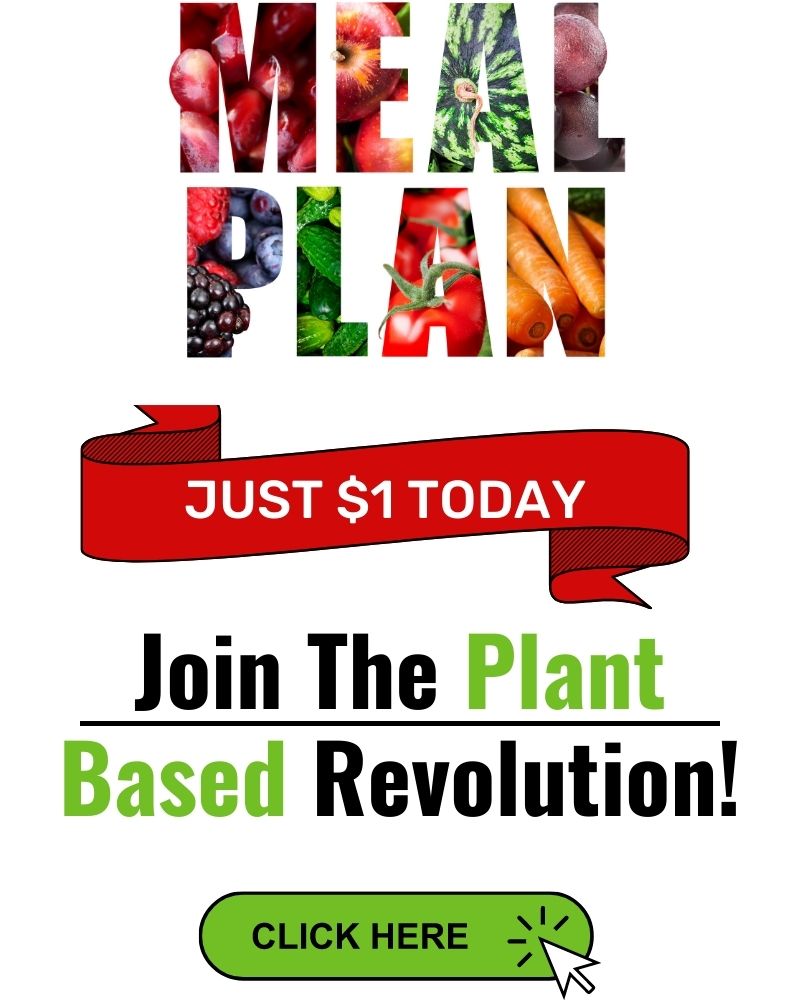 Thanks for visiting ZestForever today!
We are grateful for your continued support and would appreciate you sharing this post on your social media channels.
Let's help the world go plant based!