Why is Physical Exercise Important? There are just so many reasons why regular exercise should become a part of your life, some of the obvious ones being getting that hot body you've always wanted not to mention an AWESOME array of health benefits that will prolong your life, slash your risk of disease, and generally make you a happier person.
Exercise floods your body with feel-good endorphins that will activate your opiate receptors and help to kick depression, anxiety, low self-esteem, fear, stress, and all those other lower self emotions to the the curb. And that's not the only generous payoff you get for all your hard work – read on for more benefits of physical activity, and prepare to be astounded!
Benefits of Fitness
BOOSTS MOOD

REDUCES ANXIETY AND DEPRESSION

BOOSTS METABOLISM

WEIGHT LOSS 

PROMOTES GOOD MUSCLE TONE (AKA YOU'LL GET A GREAT BODY!)

REDUCES CHRONIC PAIN

INCREASES PAIN TOLERANCE

BOOSTS SEX DRIVE

PROMOTES SELF DISCIPLINE

REDUCES RISK OF HEART DISEASE

LENGTHENS LIFE SPAN IN GENERAL

BETTER SLEEP

MORE ENERGY
There are many different ways to keep fit, and many different types of exercises to suit everyone no matter what your current condition, fitness level OR budget.
To keep up enthusiasm and ensure that fitness is a long term thing, you should choose sports you actually enjoy, or at least pick something you think you may grow to like, then start slowly and go from there.
PARTNER UP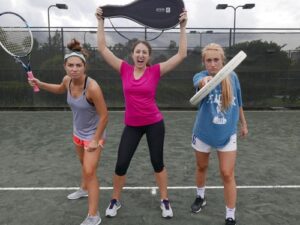 Often sports that require a partner such as tennis and squash, or team sports such as football, cricket, volleyball or netball can be a good choice as they encourage camaraderie, and a little healthy competition is great for firing you up for a game. When you do start to enjoy it, then hey, it suddenly doesn't feel like such hard graft does it?
Self defense:
Self defense, or martial art classes like karate, boxing, taeqwondo or judo, are all fabulous ways to get fit, and knowing you have self defense skills may also come in handy at other times in life.
There is nothing more empowering than the knowledge that you have a strong and healthy body, as it will give you a confidence boost that can potentially change your whole life. That confidence will shine through every aspect of you including your work, drive, ambition, and especially your relationships with others.
The benefits of exercise and fitness cannot be stressed enough. If you suffer from anxiety or depression, then exercise (especially weight bearing for depression) will trigger a cascade of feel good endorphins that will help to burn off stress hormones. This will keep you calm, focused, and ready to take on anything life throws at you.
Something amazing happens in your body when you workout: a chemical reaction releases endorphins and you feel uplifted – even euphoric, and that feeling of satisfaction you get after a good workout can stay with you for days afterwards.
DANCING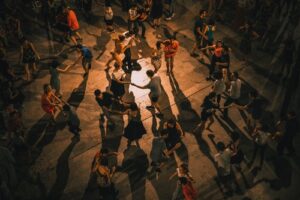 Studies show that dance classes can reduce anxiety more than other forms of exercise. Dancing helps you to connect with your inner self, as there is something primal and free about it. It can pull you out of a low mood and stimulate all your senses, making you feel sexy and alive.
If you are too shy for a dance class, then throw on some of your favorite tunes at home and just go for it. Dance like nobody is watching (and maybe check that they're not first). Soon you will start to feel more confidant than ever: Caution – this really works!
Dancing is a social activity
Dancing is a brilliant way to meet new people, make new friends and socialize. It also offers the added benefits of managing weight, improving coordination, flexibility, motor skills, boosting bone health, and will also give you a stronger heart and lungs. This makes it one of the best forms of all round exercise to cover all bases.
WEIGHT BEARING EXERCISE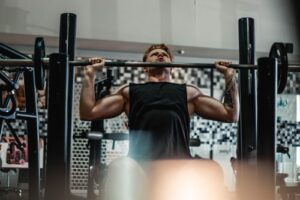 To stimulate ALL muscle groups it is best to do a range of exercises. A couple of good gym sessions, power walk, stair climbing, hiking and kettle bells are all great ways of really flooding the system with a cascade of mood enhancing endorphins.
These endorphins will help vaporize stress and depression, keep PMS symptoms at bay, and serve as a good healthy outlet for anger and frustration – and these fantastic effects can last for hours, even days.
ALL weight bearing exercise will give you more muscle mass and tone, which is good thing for keeping bones strong, protecting against osteoporosis, improving your sense of balance and coordination, and lessening your risk of injury in general. All of these are especially important as you age as we begin lose muscle mass continuously after the age of 35 unless we take action.
Muscle mass helps keep you slim!
The more lean muscle mass you have on your body, the more calories you will burn daily even when at rest, therefore weight-bearing exercise is also a relevant weight and fat loss tool. Just be sure to push yourself more as you build up strength and stamina, and remember to up the heaviness of your weights as your body adjusts and becomes more accustomed to your regime.
HULA HOOPING – THE BEST BELLY TONER EVER!
If you want to blast belly fat, then hula hooping really cuts the mustard and is one of the quickest ways to target specifically this area. It is something I have personally tried and had much success with in the past, but you do have to be steadfast in your commitment if you want to see fast results.
How I did it:-
In my first 2 months of using a weighted hula hoop (I used it a lot; up to 5×30 minute sessions a week) I went down 2 dress sizes and lost about 8lbs in weight, and I did nothing else differently, making hula hooping one of the best exercises I had tried for burning stomach fat specifically.
STEPPING UP THE CARDIO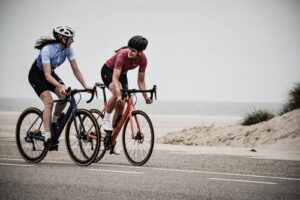 Cardiovascular exercise, the likes of running, jogging, swimming, cycling, HIIT (high intensity interval training), or basically anything that gets your heart rate up for a significant amount of time has many benefits. These include, most strikingly, a 50% lower risk of heart disease and a lower instance of many other diseases in general.
Cardiovascular exercise is also crazy good for your mind and general well-being as it helps to blast out depression, anxiety and low mood. Don't forget that many exercises are both cardio and weight bearing at the same time – I'm talking about HIIT, power walking, running, indoor rowing and kettle bell sessions. These are great as they give you the best of both worlds in one session, therefore saving you both time and money.
Boxing
Boxing is one of the BEST all rounders for not only its cardiovascular benefits, but also for self defense, muscle building, toning, balance and coordination; plus it's a great self esteem booster. You can do some sparring at home with a partner and an inexpensive sparring kit, or you can go to organised boxercise classes or gyms.
If you suffer from joint problems you may prefer to do the lower impact sports, such as swimming or cycling. These are great as they do not pound down hard on joints like some other exercises do, and so keep the pressure off. But, you may need to go at these harder to get the same muscle building benefits as other weight-bearing exercises.
Swimming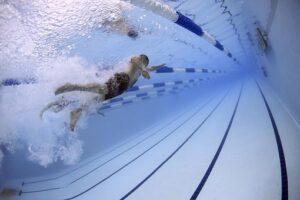 Swimming uses practically every muscle in your body, and is great for people who suffer insomnia as it tires out ALL the muscles and induces sleep. It also controls blood sugar levels, lowers blood pressure and cholesterol, and reduces your risk of heart disease and stroke. 
Cycling is another exercise that is also much easier on the joints than other types of sports; it is not only aerobic, but builds strong muscles, especially in the legs and abdominals. Plus, it builds strong bones and boosts endurance. It's also fantastic for balance, and if nothing else is also a great reason to get out in the fresh air which in itself will make you feel good.
FITNESS TRACKERS
Fitness trackers are a simple way to keep track of your fitness AND they create accountability, making in easier for you to stick with your health and fitness plan. They will also track your steps, heart rate, calories burned, sleep patterns, and can usually lock into your heartbeat to create a personalised breathing plan to help you relax more.
Most mobile phones have built in fitness trackers that work well too, so if you haven't got the cash to splash on a tracker then this is also another option.
POWER EATING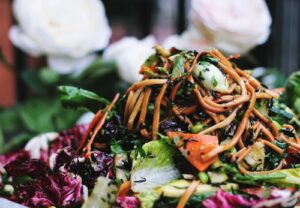 When deciding to embark on any exercise regime you will want to make sure you are eating all the right foods and obtaining all the macronutrients you need for a well-rounded and healthy diet. Any effects you get from exercise can be doubled from eating high plant protein and nutrient dense foods.
If you're wishing to lose weight then you should also include specific fat burning foods into your diet, as these will really help boost your metabolism and keep your body in fat burning mode with minimum effort on your part. 
I have found that a highly plant based diet with lots of plant proteins as opposed to animal superior in the respect that they cause much less inflammation in the body, and therefore can build leaner, cleaner muscle. You will also find that doing this anti inflammatory kind of diet will fasten your recovery times and even boost your endurance during exercise itself, and this is the reason many athletes are now experimenting with this lifestyle.
Plant proteins include lots of pulses, lentils, wholegrains, quinoa, buckwheat, organic soybeans and soy products (though I would stay away from soy isolate protein powders), tempeh, quinoa, nut butters, nuts, seeds, and even many vegetables contain protein.
PROTEIN POWDERS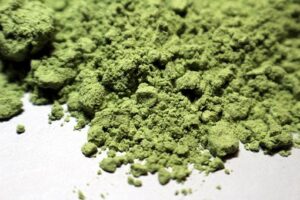 Protein powders can provide a crucial role on a fitness or training plan and can boost your muscle tone and fat burning abilities to a new level. Getting enough protein is especially important if you are either doing a lot of exercise, are on a plant based diet, want to build muscle mass, or if you simply want to lose weight and need to snack on low GI filling foods.
A protein supplement can help with ALL of these things, and the best kind for the job are plant based protein powders. These are much cleaner than whey and therefore will not contribute to inflammation in the body, nor will you get any of the side effects that are so common with dairy products.
Some of the awesome protein powders available now (especially now that veganism has kicked off in such a big way) are just amazing. You can buy already made up blends, which not only contain the perfect ratios of different plant proteins for a good all round amino acid profile, but many also contain added digestive aids, greens, other superfoods, and even probiotics.
Which protein powder should I use?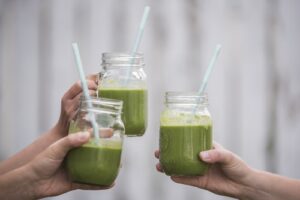 Buying quality goods at reasonable prices is a must if it's going to be something you will be using long term. I have devised a list for you of the best 15 protein powders of 2019, and it is gleaned from hundreds of reviews on the highest quality brands at the most affordable prices.
Please take the time to find something that is suitable for your specific needs because they can all be quite different. Some of them are specifically designed for bulking, some for weight loss, some for athletes – the list goes on, and it can be a personalised thing to everyone.
How much protein do I need?
You should be consuming between 1-2 grams of protein per kilo of body weight depending on the kind of training you are doing. Opt for the higher end of  protein with less carbs if you are looking to cut fat and build muscle, OR if you're weight training or lifting heavy weights.
Conclusion:-
It really cannot be stated enough that physical fitness, alongside a clean and healthy diet really can change your life forever. You will feel fantastic, have more confidence than you EVER thought possible, and have much higher protection from many major diseases and illnesses. 
You can start today to change your life – just baby steps every day lead to huge leaps over the long term, and trust me, when you start to feel good you will never want to go back. 
If you have any questions about health and fitness I am always pleased to answer them. Just post away below this thread. Thanks for reading!