What is a plant based diet? In essence, eating plant based is what it says on the tin – it's eating plants; or anything else that is not derived from animals or fish, and it's really not quite as boring and bland as it sounds – honestly. And in this post I hope will show you how simple it can be for YOU to achieve this lifestyle today no matter what place you are starting from, or how much you know about food.
When most people hear the terms vegan or plant based they often have visions of grass on a plate, but this is so very far from the truth that it's almost funny. Eating a highly plant based diet, when done correctly with attention to your macronutrients and a good exercise plan, is actually the ultimate healthy lifestyle that can take you to a place of vibrant health, vitality and healing in a relatively short space of time.
There are many plant foods
Firstly, if you take into consideration the fact that plant foods include not just vegetables, but also fruits, nuts, seeds, quinoa, barley, spelt, amaranth, rices, lentils, pulses, beans, healthy fats, soy, tempeh, seitan and nut milks (you will become familiar with all of these as you go) then you can start to see a bigger picture emerging, and a lot more ingredients to work with than you may have originally thought.
The Plant Based Eating Explosion!
This past year has seen the sharpest EVER rise of veganism and plant based eating which I think is down to a number of reasons.
Firstly, we are all becoming more aware of our environment and global warming, and the over consumption of animal products and farming methods have played a role in that.
Secondly, we are also becoming much more aware of the impact food has on our health and we want to feel and look our best.
Thirdly, many people are lactose intolerant or may get other issues arising from too much dairy, so therefore are looking for substitutes to their normal products.
It's never been an easier, or more convenient time to go plant based than right now, and fortunately most supermarkets are getting on board in a big way with the plant based movement. You will find most shops, restaurants and cafes are now offering all sorts of substitutes for animal products, and are serving many varieties of nut milks, cheeses and meat substitutes (though I'm not a big fan of soy based meat substitutes for the long term, they are fine whilst you are breaking yourself in).
Plant Based Diet Benefits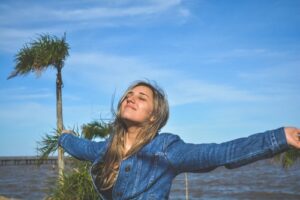 First I need to convince you of the reasons why (and I believe there are many) you should even bother to make the change to this lifestyle in the first place, the future of our environment being just one of the benefits on a very long list. But for YOU personally, the health benefits of a plant based diet when done correctly, can be simply astounding, and this has most definitely been my experience in the 2 years on my own plant based journey.
I say 'when done correctly' because this is a major key point, and will make all the difference between getting you to that place of health and vitality that I know you want to be at, instead of just eeking by.
Here are some of the amazing reasons to change to this awesome lifestyle in case you still need convincing. Remember, you will only get thee benefits if you are truly eating lots of fruits, veggies, nuts and seeds; plus food combining correctly (which is much easier than it sounds, and you will get the hang of it fast).
MUCH more energy (this one will blow your mind!).
You will find it easier to get physically fit.
Lower inflammation in general.
Clearer skin.
Glowing complexion
Weight loss – specifically belly fat.
Reduction in cellulite.
Higher immunity and less sickness (i.e. bugs, colds and flu)
Where to Begin – Cut out the Junk!
Choosing a whole foods plant based diet for the reasons of superior health and well-being will also mean cutting out sugar and other high GI foods; plus deep-fried foods, artificial sweeteners, preservatives, colours, and other food chemicals will need to be eliminated as much as possible too.
Doing this will kick start the detoxification process and also flood your system with life giving nutrients, allowing it to clear out the toxins more effectively and begin healing itself. Putting your body into a state of homeostasis is the ultimate path to healing both mentally and physically, and you can actually do this through diet and exercise.
Healing the body AND mind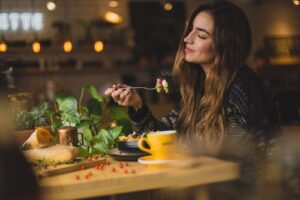 For me personally, changing to a plant based lifestyle helped change my whole life more than any other diet (and believe me I have tried many), not just in body, but in mind also. For long term change, which is what you need to be thinking about in order to live the healthful life you want, it is always best to take things one step at a time. Boring, I know, but there's no point in going all in and then falling off the horse very quickly.
It is proven that if you try to make too many changes at once then you are way more likely to fail; though for some all or nothing types this approach may actually work better but, I personally think it best not to take on too much all at once. Either way, I will give you the strategies that I used for incorporating these changes as easily as possible, and that worked for me.
Alkaline Foods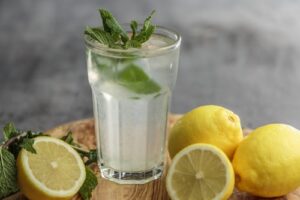 Many plant foods are highly alkaline, whilst most animal products (milk and dairy come in mid range) and refined sugars are acidic, meaning they cause inflammation in the body that can promote disease. It stands to reason that cutting out these acidic foods as much as possible, and adding in plant foods instead, will help to keep your body in more of a state of balance, thus reducing your chances of certain diseases.
To help this process along even more, you should also add more antioxidant rich superfoods to your diet, as these will not only boost your immune system, but will also give you a beautiful glowing complexion that everybody will comment on – to which you can tell them exactly how you have achieved it through the eating of delicious and nutritious plant foods. Oh the satisfaction!
TOP 12 ALKALINE FOODS
Sea vegetables

Dark green leafy vegetables including spinach, kale, spring greens, rocket, Swiss chard (the darker the colour the better).

Himalayan pink salt (in moderation).

Broccoli

Sprouted beans

Avocado

Beetroot

Garlic

Lemon

Tomatoes

All raw foods

Super Green Powder Shots

– absolutely essential for energy, glowing skin, and a super strong immune system.
TOP 10 ACID FORMING FOODS
All high GI sugars, including white sugar, refined flour products, honey, corn syrup, and artificial sweeteners

Alcohol

Tea and Coffee

Cacao

Dried fruit

Meats

Farmed fish

Shellfish

Eggs

Yeast and fermented foods such as miso, soy sauce, mustard and marmite.
As you can see, not all plant foods are necessarily alkaline and vice versa, but most of the major plant food groups are either alkaline or mid range – and most of the animal products are mid range to highly acidic. So in balance, the plant based way of eating is much more alkaline, and therefore healthier in the long term.
Don't get me wrong, there are foods on the highly acidic list that are considered healthy (like eggs and fish for example), but if you do eat them they should be balanced out with lots of alkaline foods to keep acidity in the body to a minimum.
On a personal note, I am now pretty much 100% plant based these days, due mainly to the fact that I really notice the difference in how I feel if I start to eat eggs and dairy again, and it's not good. I have tried and tested it a few times and they just make me feel congested and foggy headed, which is something that I never even noticed before eating plant based full time. I put this down to my body having an inflammatory response to them that I never noticed before, OR my body is just no longer used to them.
Benefits I have noticed since eating a whole plant diet
Less bloating and puffiness in the face (I didn't even realise I had these issues until suddenly I didn't, and everyone could see the difference).

MUCH more energy.

No muscle aches after exercise.

The most amazing glowing skin I have EVER had.

A clear head (brain fog is another thing I had always had, but didn't really notice – until it was gone).

Much better memory.

Strong immune system (I have not had one day of sickness, colds, or viruses the whole time I have eaten only plant foods).

Hormonal balance (I rarely suffer from mood swings or PMS like I used to).

Less stress (I find I do not get as angry, frustrated or stressed out like I did before).

Weight Loss

Thicker more lustrous hair.

Anti aging, which happens naturally when you start filling your body with antioxidants and other natural food product supplements.
One of the things that stands out clear as day when you read this list, is that ALL of those above problems I used to have are the result of too much inflammation in the body – and they ALL got better when I changed my diet. I may not have developed any serious diseases yet, but I was more than likely on the way. And the way I felt after changing my diet shows you exactly what the plant based lifestyle, when done correctly, can do for you. I'm not saying we will all get the same benefits as we are all different, but you will get benefits.
Plant Based Vs Vegan – What's the difference?
THE VEGAN LIFESTYLE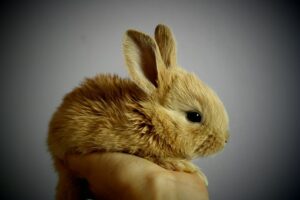 The main difference would be that veganism is a lifestyle that is predominantly about the welfare of animals, and therefore shuns ALL animal products, including anything made of animal skin such as leather, suede and fur. It also bans anything that has been tested on animals, which includes most make-up, shampoos, conditioners, toiletries, and many household cleaning and washing products.
This is all noble and for a good cause of course, I'm definitely not saying it's not, but I won't go further into the animal welfare side of things for the simple reason this is a plant based lifestyle website, and on it I will be focusing more about the actual health benefits of plant foods.
It's worth noting that as veganism is not predominantly about health, not all vegans are necessarily healthy and there are many vegan junk foods out there – I know a few myself. Just think fries, trans fats and SUGAR for starters – ALL these are still vegan, and plant based for that mater!
THE PLANT BASED LIFESTYLE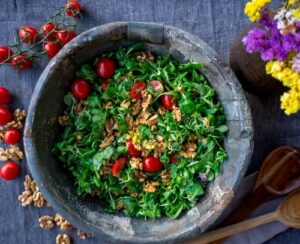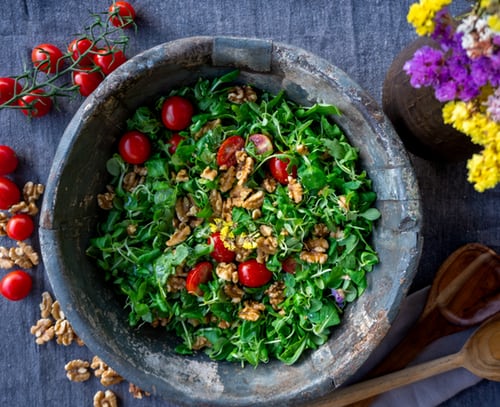 On the other hand, plant based eating is more predominantly about health (or you may decide to start off plant based as you ease yourself into veganism), and on the plant based diet you have more leeway to help make things easier, which is often needed, especially in the early stages of making such huge lifestyle changes.
How to 'BE' around others:
There will of course be times when it will be hard, especially when you're around other people who may not necessarily understand why you are going to what they call 'extremes' with your eating, and therefore may feel they need to give you negative opinions. Never allow people to judge you for your choices, it's your body and entirely up to you to decide what you put into it, and that's just your god given right – they are on their journey and you are on yours.
You will more often than not find, that when others see how well you look they will be asking you what you are doing and will want a piece of the action for themselves, which is obviously great – refer them to this website :-). But, being the change you wish to see in the world is a lot more powerful and effective than just preaching it. I get these kind of positive comments a lot now, and I'm more than happy to help of course.
How to eat a plant based diet correctly
COMPLETE AMINO ACIDS
Combining the right foods for a full profile of amino acids is crucial on a plant based diet, as animal products are already complete proteins, whereas many plant products aren't. This is why its important you understand how to put a complete meal together to cover ALL your dietary needs – don't be alarmed, this really isn't as hard as it sounds and will soon become second nature. New evidence has found that you don't actually have to eat a complete amino acid profile at every meal, just over the course of the day is good enough.
You will find that you will feel much fuller, and your blood sugars will stay much more stable by the proper understanding of combining foods to be sure you are getting the correct amounts of protein, carbohydrates, healthy fats and nutrients throughout the day. It's important for you to follow though and read that ink as it will be a vital part of your understanding of putting a nutritionally complete meal together. 
Plant based protein Powders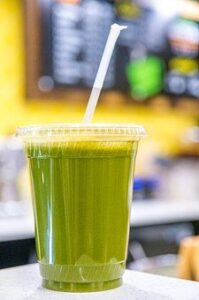 Sometimes a good protein powder supplement can be a godsend when you are on a vegan or plant based diet. Why? Because it is actually quite hard to meet your protein needs (but not impossible with vigilance) on a plant based diet, especially if you are doing a lot of exercise or training. I found this out the hard way in the beginning and actually lost some muscle mass at first, even though I was doing weight bearing exercise. So to be sure, I now take a protein shake most days, or even add a scoop to my morning porridge if I have done a workout the day before.
Another good reason to take extra protein supplements is if you're trying to burn fat and/or build muscle. Protein not only builds muscle (which actually burns more calories than fat even in its resting state), but it also keeps you full and stops you craving the refined carbohydrates that are so devastating to a weight loss diet.
Just remember, not all protein powders are the same: Some have added sugars, fillers, and other nasty stuff to be watchful for, so be mindful to choose something that will work for you and fits in with your lifestyle and needs. Here I have done an in-depth review of the best all natural plant based protein powders for you to to check out before you go down the protein supplement path.
LOW GI FOODS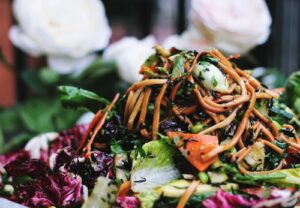 Low GI foods (which is short for glycemic index, and is the rate in which the sugars in a particular food hit the bloodstream) are best for keeping blood sugar stable, and they can be found in the complex carbohydrates that are in most whole foods. These are foods that are still in their whole and natural state, for example – a whole orange, as opposed to orange juice which has had its fibers removed. 
For the best low GI meals and snacks, plant food carbohydrates such as wholegrain bread, cereal, rice, pasta, millet, buckwheat, amaranth, oatmeal and cracked wheat need to be combined with proteins such as pulses, nuts, seeds, quinoa, soy, tempeh and seitan, and also a little healthy monounsaturated fat like avocado, coconut or olive oil (if not already in the protein element, as it is in the case of nuts and seeds). These combinations will keep you sated and full, with a slow release of energy over many hours.
High GI eating will cause A sugar spike!
High GI carbohydrates, such as white sugar, flours, confectionery, fizzy drinks, fruit juices and chocolate will throw your blood sugar out of whack, especially when eaten on an empty stomach. High blood sugar may eventually bring with it problems of its own including type 2 diabetes, obesity and metabolic syndrome to name just a few. Low GI carbohydrates are an ESSENTIAL part of your healthy plant based diet, and should be eaten at every meal to keep you satiated and to slow down sugar release.
The Plant Based Diet and Weight Gain
Some people begin a plant based diet in the hope of losing excess weight, but unfortunately this is often not the case, especially in the beginning. If you begin this lifestyle with little understanding of the nutrition required then you may temporarily gain weight due to the eating of more carby foods and less protein; or just plain and simply eating too many fats in the form of nuts, seeds and oils.
It's natural for this to happen when you cut out your major source of protein that is animal products. Find out more about whether you fall into one of these categories with these 4 common weight gain mistakes and learn how to fix them fast.
Thank you for visiting zestforever today. I hope you have come away with a much clearer understanding of the amazing benefits of a plant based diet, and I also hope I have given you the incentive to want to try this healthful, planet friendly way of eating for yourself. If you have any questions I am as always, happy help, so go ahead and post below! Thank you