Jason Turner – Personal Trainer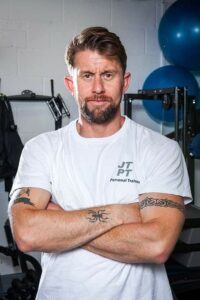 Jason is a qualified personal trainer who has 10 years experience working within the fitness industry. He has trained and seen amazing results with all kinds of people, helping them to achieve their fitness goals and ultimately having a positive impact on their lives.
He is an NVQ Registered Personal Trainer and a member of REPS (The Registered Exercise Professionals), and also runs his own successful and fully equipped gym where he trains clients starting from all levels of fitness.
Jason contributes to the fitness section of this website, making sure all information given is correct and up to date, and is also the face of the fitness videos that are a part of our plant based eating plans and guides. He helps give you the right exercises for your personal goals be they muscle building, weight loss, boosted fitness levels, or just toning up for that summer ready beach body.
All this is possible with a combination of the right diet and exercise plan and this is what we hope to help you achieve here at Zestforever.